Kingshortpants
( Westbrook, CT : US )
- Virus free since 1683
Hey I'm Andrew. I'm 22 and I love Ska and punk!
Also I'm a mother fucking Dinosaur Roar!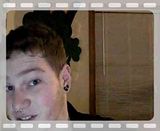 Peircings:
vertical labret
6 guage tongue(retired)
two brow rings(retired)
10g septum ring.
Left ear:
first ear hole 0g
then the other one is 6g.
and there is a tiny ring in the cartilage
right ear:
just one 4g.
Tattoos:
I have a celtic lil thing on my left shoulder,
then on my for arm I have a shamrock and under my elbow I have a cherry bomb.